No, this isn't about Weight Watchers or counting POINTS or food. Although, I should probably hop back on that bandwagon in the next month. We'll cross that bridge in September, shall we? Sounds good.
But I'm talking about running, of course, as that seems to be my focus of late, which is understandable given the amount of time I devote to it every week.
This past weekend saw me run my first night race, A Midsummer Night's Run. This is a race I had wanted to run for the past couple of years but never had the nerve to sign up for. This year, I hemmed and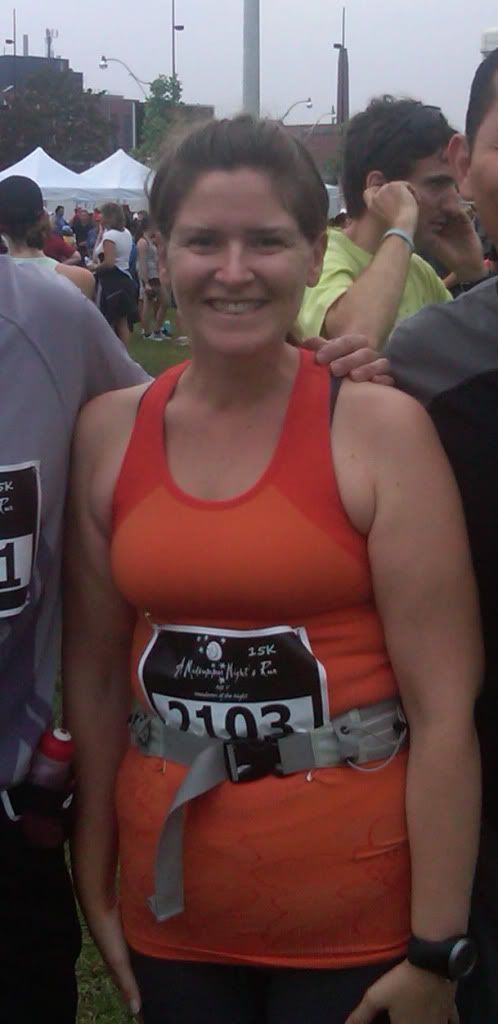 hawed about it for so long, contemplated running the 30k and not telling anyone, but then signed up for the 15k a week before because some of our clinic participants were running it.
Because this was a race that I didn't have to run, had no history of running before and have no experience running at night, I had the opportunity to do everything right or everything wrong. So I chose to go into it with a plan, for once.
I selected a goal time that was easily attainable (1:35) and was almost my personal best for the 10-miler, which is a km more than this race. I knew that the pace that I needed to achieve it with walk breaks was 6:09/km and then decided to WATCH my Garmin for my pace the entire time. I knew I wouldn't do the 10:1s I planned for or do in training so I could easily give myself a buffer in my pace from 6:00 to 6:30/km and take one or two walk breaks if I really needed them.
You'd think this plan would put me at ease, right? WRONG! The whole day was a gong show since I had to get up early and bake for a get-together of some Weight Watchers online ladies that afternoon, get my butt there and then get myself down to the race in time to check my bag and putter around. Of course I hadn't planned for the two TTC buses I had to take to BOTH have detours, adding extra time and worry to my travel, but I made it there with time to spare, met up with the clinic kids and even ran into Heather, who I ADORE, and it made me feel better starting out(even if she left me in the dust).
And the race was good. I felt comfortable the entire time. Every time I saw that I was going too fast, I eased back and enjoyed myself. For the first time I wasn't so focused on people passing me and worrying about how that affected me. I didn't get the huge pain in my neck that I usually do from tensing up, only a bit of discomfort which was very manageable and for once I didn't feel like I was the ugliest runner there (my pictures always prove otherwise). When I was a kilometre away and had ten minutes to go, I knew everything was good. And I felt good, too. Yes I could have gone faster, but I wouldn't have had a good run and I would be here making excuses today instead of thrilled with such a good, easy and respectable race.
But having a plan and sticking to a pace was the best thing. Every other time I've been so up and down and have paid for it. So from now on, no more running races all willy nilly because I pay for it in the end. Having a plan means that it pays off in the end :)