Yup. They've gone and done it.
Oreo Cakesters, the super sweet, cake-like version of everyone's favourite sandwich cookie has decided to jump on the 100 calorie bandwagon to increase their take on the cookie market.
Does everyone else see a problem with this?
These snacks are anything but figure friendly, with a regular package of two making a 6 POINT dent in your daily allowance. So just HOW does one go about making a 100 calorie pack of the delicious devils?
You make them about the size of a quarter.
Really.
NOTHING about these little bad boys are any different than their big brothers. They have the same ingredients and pack the same wallop if you eat the same serving size.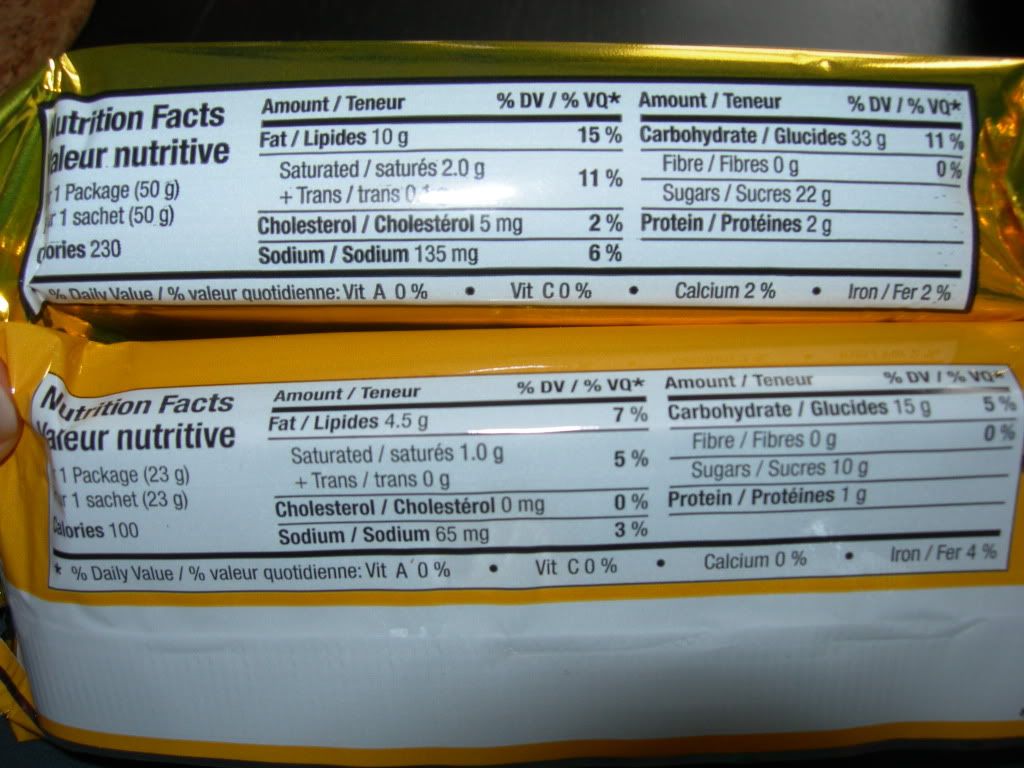 Yup. Not only are they teeny, tiny, but the serving size is just under half of the regulars (23g vs. 50g), as you can clearly see on the package.
So if you were to eat 50g of the pint-sized snack, you'd really be doing the same damage as the bigguns.
So why bother? What is it about these 100 calorie packs? Why do we need the label to exercise portion control? Why can't we just eat ONE Cakester and be done with it?
The whole concept is out of whack to me. A regular box gets you six packages, with two cookies in each, while the 100 calorie packs give you five packages.
If you could control your portions well, you could, in theory, have 12 snacks vs. the 100 calorie five snacks.
It's all well and good that they provide a "sensible" (notice quotes) option for those who need them, but you're paying such a high price.
Although, I paid a much higher price by throwing the Cakesters out because I would eat both boxes in one sitting.
You can repackage and reformat things all you want, the evil will always lurk inside.