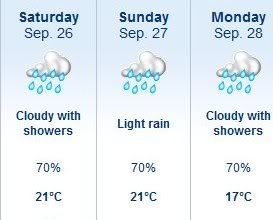 Remember me? We've talked before. And, uh, maybe I've even cursed you on occasion. Sorry about that, but I hope that you can understand and forgive me, right?
So why am I bothering you today? See, the thing is there's this race on Sunday that I planned on running.
It's kind of a big deal, you know?
See, I would REALLY, REALLY love it if it didn't rain that day.
This will be the third year in a row that I am running the half and I'd kind of like it if it was sunny that day. Running along the lakeshore with the sun shining off of the water is truly a beautiful thing that everyone registered should experience.
Running next to the lake while it's pissing rain – yeah, not so much fun. Been there (@ the 10 miler last year), done that, NOT impressed.
Don't get me wrong, now. Running in the rain is refreshing at times, but I'd like it NOT to be on a day where I've paid an entry fee to run.
So if you could upgrade the forecast to at least partly cloudy or something, I think we could come to an understanding.
Sound good?
Have your people call my people.
xo
Mouse