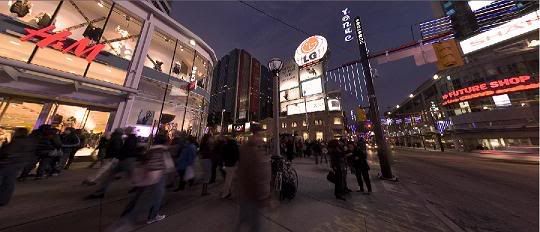 I'm city girl. This is never going to change. I LIKE having everything within walking distance of my home, including grocery stores, restaurants, retail chains and more. I live within minutes of the centre of Canada's largest city, and despite the noise, traffic and craziness - I am totally at peace. But does living in a large urban area affect my waist line too? Is having a Jack Astor's, a Pickle Barrel, a Red Lobster, a Spring Rolls, not to mention the Burger Kings, McDonald's and Wendy's that around abound, five minutes from my front door step a bad thing? (We won't mention the Harvey's that I can spit on from my porch) Sure, I relied on fast-food before, but it's not a part of my life ALL of the time. Now it's a treat rather than a every day occurrence. Yes, I am tempted to be lazy and give in to the neon signs and tasty looking billboards, but I'd like to think I'm smarter than that....just a little. Someone casually mentioned today that living further away from the city helped them lose weight. But does it really? I'm glad it works for them, but I doubt it would for me. For me, I think it may be a hindrance. I wouldn't have access to a gym, I would probably isolate myself to my house or find myself driving far off to do things and spending long periods of time car bound, probably mindlessly snacking or picking up convenience food somewhere along the way. Perhaps this is just my "
citiot
" mentality but is one necessarily better than the other or is the will-power of the individual? I would just think that if I didn't have the support systems and tools that are abound here in the city, I would have surely failed, plunking myself down in front of the television or worse - death by baking. Thoughts?
Image from
tonymakepeace.net.
Check out the wicked-cool
panorama view of Yonge-Dundas Square
.