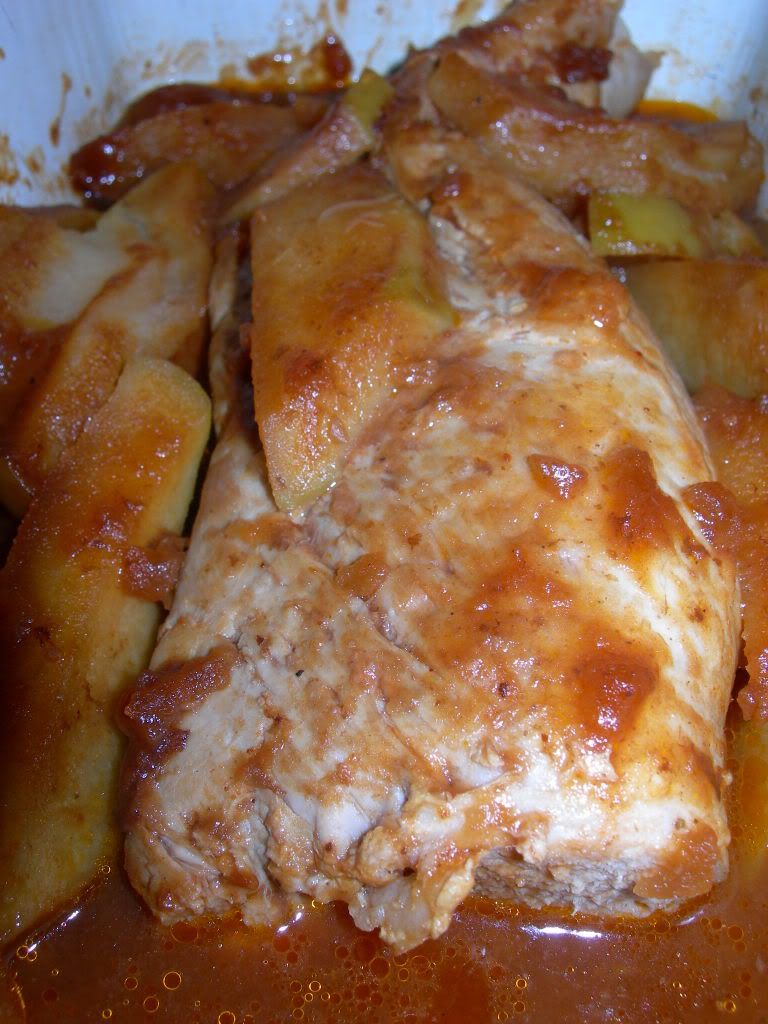 FINALLY - something I liked that wasn't in a package...besides that
Pizza
from week one.
PORK TENDERLOIN WITH APPLES.
1 lb (500 g) seasoned pork tenderloin Pinch each salt and freshly ground black pepper 1 tbsp (15 mL) butter 2 Granny Smith apples, peeled, cored and thinly sliced 1/4 cup (50 mL)
PC Memories of Dad's Grill Maple Apple & Beer Sauce
1. Preheat oven to 350ºF (180ºC). 2. Trim excess fat from pork tenderloin. Sprinkle with salt and pepper. In frying pan, melt butter over medium heat; cook pork for 5 to 8 minutes, turning occasionally, or until browned all over. Transfer pork to small roasting pan. Set aside. 3. Add apples and Memories sauce to frying pan. Cook for 3 to 5 minutes or until apples begin to soften. Pour apple mixture over pork. Roast in centre of oven for 20 to 25 minutes or until cooked through. Makes 4 servings. Per serving: 220 Cal; Fat 6 g; Saturated Fat 4; Sodium 420 mg; Carbohydrate 16 g; Fibre 1.5 g; Sugar 14g; Protein 26 g Serve with potato and two veggies -mmm, mmmm...GOOOOOOOOOOD (says the girl who hates fruit).