*bell rings* In this corner we have the challenger, wearing the blue trunks, boasting meat, potatoes, corn and...well, nothing else, and weighing in at 900g (and serves four). From the test kitchen in Brampton,
PC Blue Menu Shepherd's Pie
! *muffled boos from the crowd as the pie raises its arms in the air and jumps around the ring. They're also chanting something about wanting veggies. Weird.* And in the other corner, in the black trunks, weighing....er, the pan was too big to fit on my food scale, and bursting at the seams with the following:
2lbs of extra lean ground beef 1 onion 4lbs of yukon gold potatoes, cooked and mashed 1 cup of frozen corn 1 can of small peas 3-4 carrots, sliced Serving - a small army FOREVER, from the kitchen of one mousearoni in the gaybourhood of the T dot O dot, the simplest shepherd's pie EVER. *black trunks raises its fists in the air and suddenly blue trunks scurries out of the ring in fear. It's been here before and didn't have a warm crowd reception. Blue trunks knows it's met its match. Pandemonium breaks out. The crowd breaks into the ring, gets caught up in the moment and instead of carrying black trunks off in congratulations, they dig into him like a pack of vultures.* And the crowd?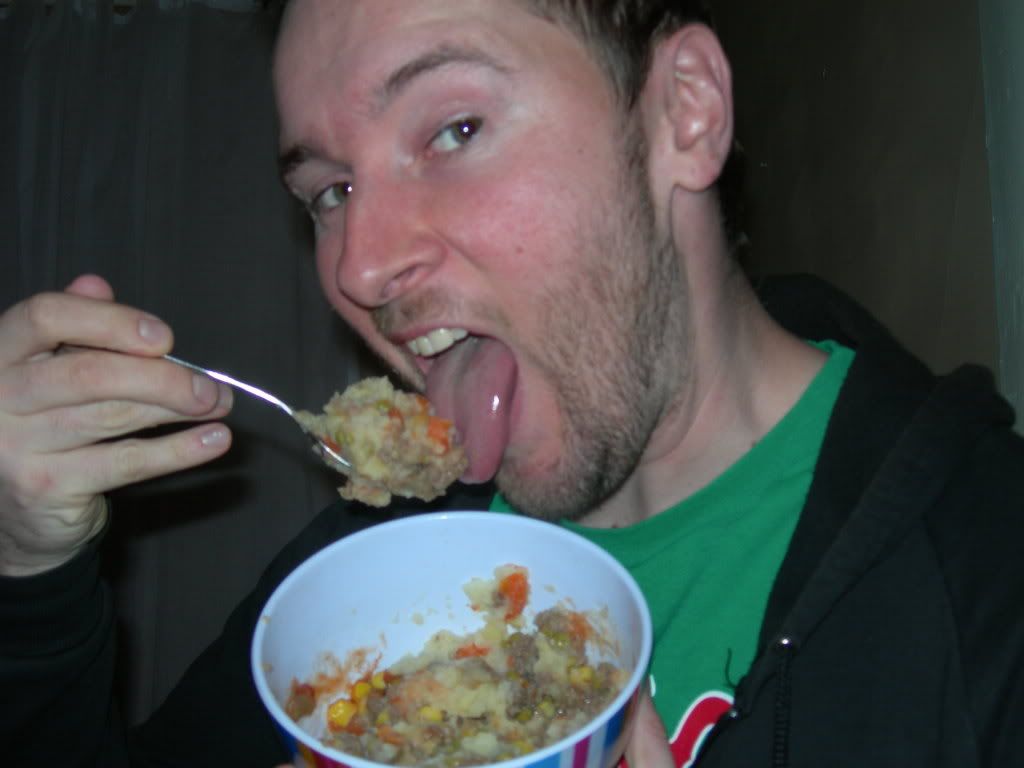 They ate that shit up. With a spoon. Seriously though, making your own will always win out. It will always be more visually appealing, pack in a buttload of veggies to boot and provide more bang for your buck too (I can serve about 10 people with this bad boy for about $12. The PC one could only serve four for $8 and I STILL needed to eat a salad to go with it). Think twice before you pick up frozen. John will thank you.