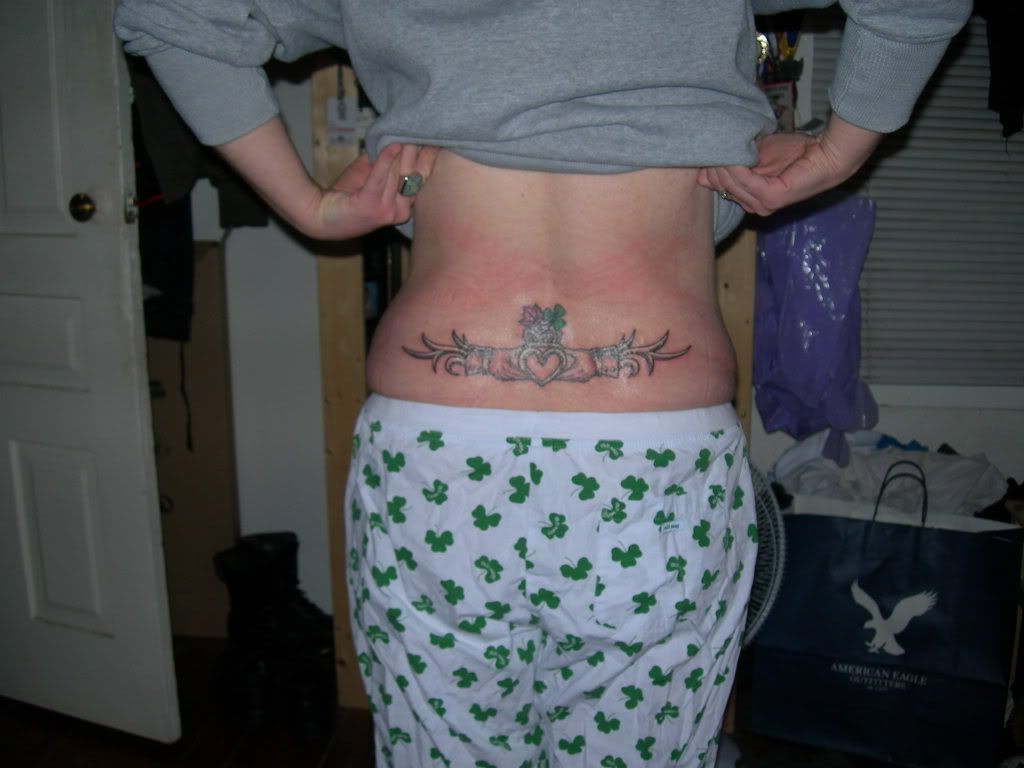 But I came out inked. Don't mind the terrible jammie pants, messy room or fuzzy pics (thanks for trying, jeep). But there she is! My claddagh over my wide arse. I got it done at
Yonge Street Tattoo
by the lovely
Christian
(who really is lovely and has KICKASS taste in music. Awesome loud, screamy stuff that would make other people's ears bleed).
Seriously - all the guy did was photocopy my
ring
, looked at my pre-existing tat (a shamrock and a maple leaf) and came up with the pretty lil thing I gots there. I'm very pleased, except for the pain. I was in A LOT more pain then I ever felt the three previous times I went for tats and my entire body twitched from start to finish. I guess number
five
is completely out of the question now. Maybe I'll wait for the memory of the pain to subside and give it a go....we'll have to see :) I am enjoying the lovehandles on these shots though. Thank you, kick in the ass! ***EDIT*** JUST in case you aren't sure what a claddagh is, it's a traditional Irish wedding band (not just the ring that Angel gave Buffy like someone once told me in high school). You can find different histories about the claddagh
here
,
here
and
here.
The ring means different things each way it's worn; Your heart is open when worn on the right hand crown facing in, your heart is being considered on the right crown facing out and your heart is taken when your ring is worn on the left. It's traditional for all members of my mother's family to have them and I've had one since I was eight. It's just that I've always lost, broken or needed them resized, so I thought I'd have one permanently etched on me. My Irish heritage is a HUGE part of who I am and I take that with me everyday...now I take it with me in ink too.