she may get up to some mischief. So I was sort of stood up last night. Well, it went down like this:
boy calls mouse to confirm while she's still at work (after 5p.m. - yes, she's dumb).
Boy does not have any of the items necessary for planned adventure ready during first conversation.
Mouse perturbed because a) work being interrupted b) he suggested the adventure, he should be prepared.
Boy tells mouse to call when she gets home
Mouse does, boy does not answer
boy calls back to say he'll call back (WTF)
boy calls back and hems and haws about not knowing about how to go about this adventure and the tools necessary to acheive the desired results
Mouse ends conversation by saying "you suck. I'm doing this on my own" LITERALLY
What is this adventure you might ask? SUSHI MAKING! So off to the store I went to procure the goods. This stuff is so simple to make. Cost me about $20 bucks and could feed an army of people! the only problem is no one told me SKILL was involved! My first attempt....
yeah, not so good. I couldn't quite get a feel for the whole rice, meat, avocado cucumber, seaweed and then roll it up thing. It all pretty much fell out EVERYWHERE. And cutting it was a DISASTER! My knives are great for steak, not so great for sushi. I wonder if those DIY disaster shows do sushi....hmmm? Anyway, I got right back on the horse and thought I'd try again. I had enough to feed a small army and the points to spare, why not?! the second attempt looked sooooo much prettier....
SUCCESS! Nothing much coming out of the ends...well until I tried to cut it down the middle with those blasted knives of mine. Who knew these things were so touchy?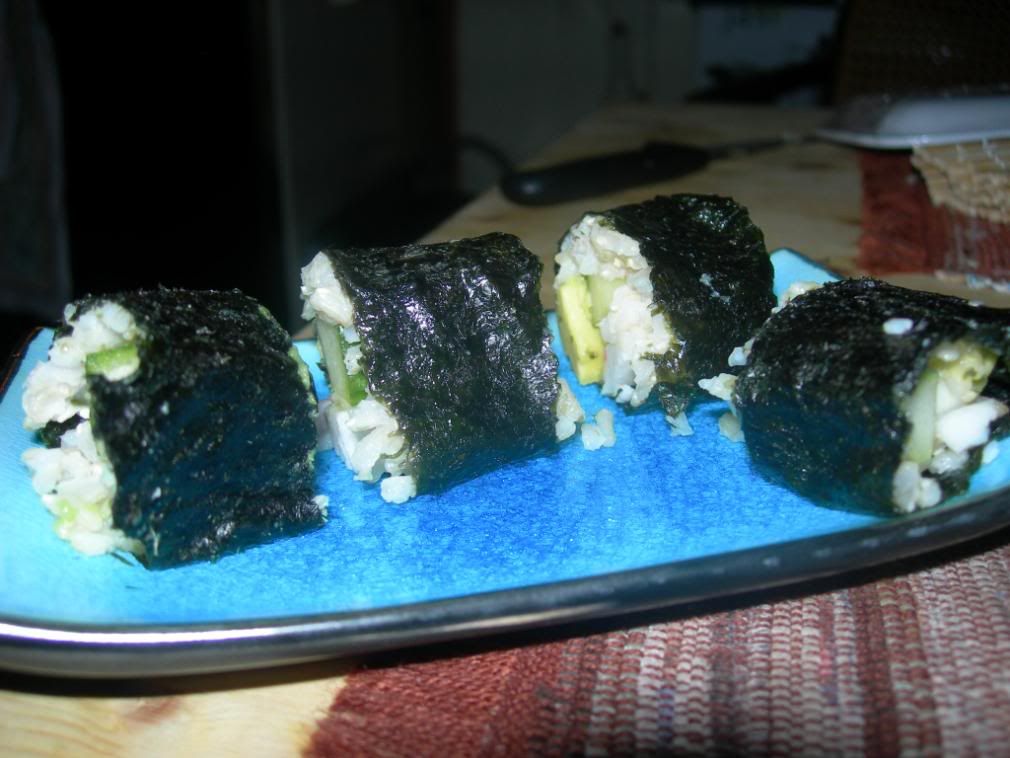 Regardless, the sushi gods finally smiled on me and I had my belly full of imitation crab, some veggies, rice and seaweed. Personally, I think this should earn you some APs too. The stress alone gets your heart rate up! Now although the boy was dumb, I do have to give him points - he was clever for his idea. He knows I'm on weight watchers and goes OUT OF HIS WAY to do things to keep me on program. This was BRILLIANT and although he didn't come through, he's going to try again I'm sure...if I haven't scared him off by telling him he sucks. Now I'm just not sure if I should rub it in his face that I did this on my own or let him try and teach me next time....